Good morning!
We have had a cloudless autumn sky (akibare: 秋晴れ) for many days now. When we sit we can enjoy a cloudless world. This is because of the clear calm air. But, when it gets colder, we have fog. I saw fog this morning.
We have fog and clouds in our world. We have so many problems. People are now noticing them. Because of losing jobs, homes, food, and money, people are coming into the streets and squares.
The Occupy Wall Street, Occupy Freedom Square, etc. movements are against corporate power. Japanese people are demonstrating in the streets and parks against nuclear power. Arab and African women recently received the Nobel Peace Prizes for their prognosis.
I forwarded the Declaration of Occupy NYC with its list of many demands. People say they have no unified message, but they have so many things to demand. This is people's struggle against power and for planet – for their life and life system.
It started with the Arab Spring, then the European Summer, now the American Autumn; maybe there will be a World Winter, like a nuclear winter or a new world. It all depends upon everyone – how we see and act.
Even in the coldest time plum flowers can bloom with strong scent. Dogen loved such plum flower and said, "Flowers blooming, the world is arisen." With flowers blooming we can have a new, beautiful world.
We have a pyramidal power fighting for power and matter, represented by money, which buys these things. Pyramid is called kinjitou (金字塔) in Japanese, because the Sino-Japanese letter gold/money (金) is in a pyramidal shape. Pyramids are with and for mummies.
Money hunters become monies and money machines, forgetting to be human and life. We create pyramids and die in them. We become possessed by what we possess. We must cultivate a culture of truth, goodness, and beauty, represented by holiness.
Instead of making money mummies of matter and power, we must make holy (wholly wholesome) minds and lives, enjoying holy truth, goodness, and beauty. Instead of becoming slaves of self and state we must become masters of all situations.
Self, society, state, and civilization are fictitious systems. Because we believe in them, we discriminate and destroy others, waging wars, causing global warming, mass extinction, etc. Because of this we have the global problematique, intertwined problems.
We must awaken to the truth and settle in the peace of a global life system. Truth and peace are two sides of  one reality. We must come back to the original harmony before creating fictitious  systems – sitting, stopping our karmas, and seeing holiness (wholesome whole).
We must make friends with all, concretely, in one  integrated world. If we make true friends, we live and die with joy, without fears and suffering. We can become buddhas, settling in truth-peace, unsurpassed awakening in unconditioned peace.
Then, we can live limitless life, light, liberation, and love through limitless learning. We don't know where the fog will go, but we must see a system shift without blood and tears. We must know the true values, share them, and live on joy with all always.
10/9/11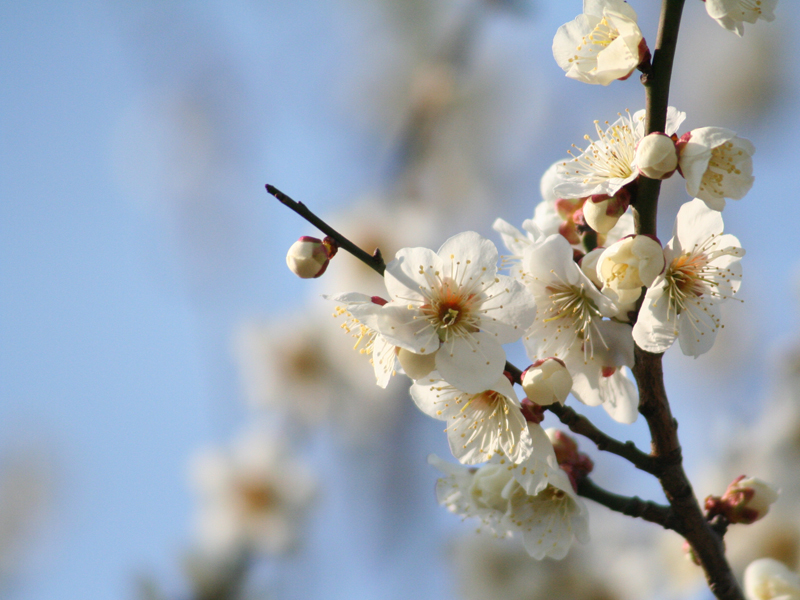 photo from pic site: http://m00m.net/pic/plant/ume-01.shtml