Good morning!
We are now officially in spring, since February 4, so it is brighter and warmer now.
Especially after sittings and service we feel brighter and warmer in harmony and
happiness. Wholly wholesomeness depends on our practice in truth and peace.
Even being born, we may become wolves or awakened ones depending on
environment, education, effort, etc. Dr. Suzuki often told the story of girls fostered
by wolves, and taught parents not to make their children wolves.
Villagers in the suburbs of Kolkota (Calcutta) found monsters like wolves with long
hair, glaring eyes, etc. in the forest, and caught them. They ran on all fours, could see
in the darkness and smell meat more than 200 feet away, howled with other wolves
at certain times at night, and were like and liked animals more than human children
even after they were caught and put into an orphanage. They were discarded by their
parents and saved and raised by wolves.
They seemed to be girls of two and seven when they were found. The younger one
was named A-mala and the older one Ka-mala. Amala died one year later, but the
older one survived eight more years. Kamala could not understand the death of
Amala for a day, but she shed streaks of tears, noticing no more movement in her,
after she tried to move her, open her eyes, etc. Kamala gradually adjusted to the
human world and behavior, but she never stopped howling with other wolves.
Recently I watched an NHK program titled Science for Everyone, where they
discussed the discovery of the mechanism of weather-related pains (pains in bad
weather) and our heart ability. They found that weather pains are caused by a
disturbance in the nucleus accumbens (NAcc) in the inner ear. It excites air
pressure sensor cells, which disturbs the lymph, which contradicts the visual sense,
whose perplexity causes sympathetic nerves to excite the pain nerves, causing pain
and the nerves around the capillaries to cause swelling.
Another aspect of pain is heart ability. The subject endures up to the endurable
amount of electric shock. Then, he is given a special ball made of special material
from South America to block the electric shock on his palm. He could then endure
up to the maximum test point, where ordinary people cannot endure. The ball was,
in fact, nothing but an ordinary rubber ball. The relationship between the heart and
pain was shown by a deep meditation state and an ordinary state – painless and
painful.
The above experiment of meditation demonstrated that meditation activated the
NAcc, which secrets brain dopes (6.5 times stronger than morphine) to lessen pain.
The NAcc function is decreased by stress and increased by joy experiences. We talked
about the fact that meditation increases the growth of the brain's gray matter and
Telomere genes, as well as causing alpha waves to increase, etc. last week. The
episode and experiment shows the crucial power of the head, heart, and hara (gut)
and all kinds of factors intricately interrelated.
Hyakujo, who compiled the famous Hyakujō-Shingi (Purity Code), saw an old man
staying after his Dharma-talk, and asked him why. He said "I lived in this mountain
and was asked by a learner if the greatly cultivated one would fall into causal law.
I answered that such a one would not fall, and fell into a fox life for five hundred
lives. Please give me a word for transformation." "Not adumbrated in causality."
The old man was greatly awakened and could get rid of fox lives.
Some people practice meditation and become adumbrated with arrogance, leading
themselves and others into miserable mires of hungry ghosts, fighting devils, beastly
beings, and hell beings. Asahara, leader of Aum Shinrikyo, claimed the final
enlightenment and final fight for its empire with Sarin, etc. Some prime ministers
practice meditation and mislead themselves and the whole nation to nukes and
wars, disregarding traditional Peace Constitutions. They must quit their foxy and
wolf-like practice.
2/8/15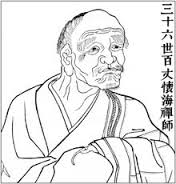 Hyakujo Ekai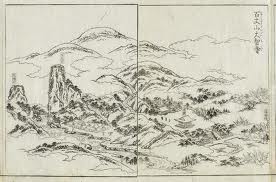 Great Prognosis Temple at Mt. Hyakujo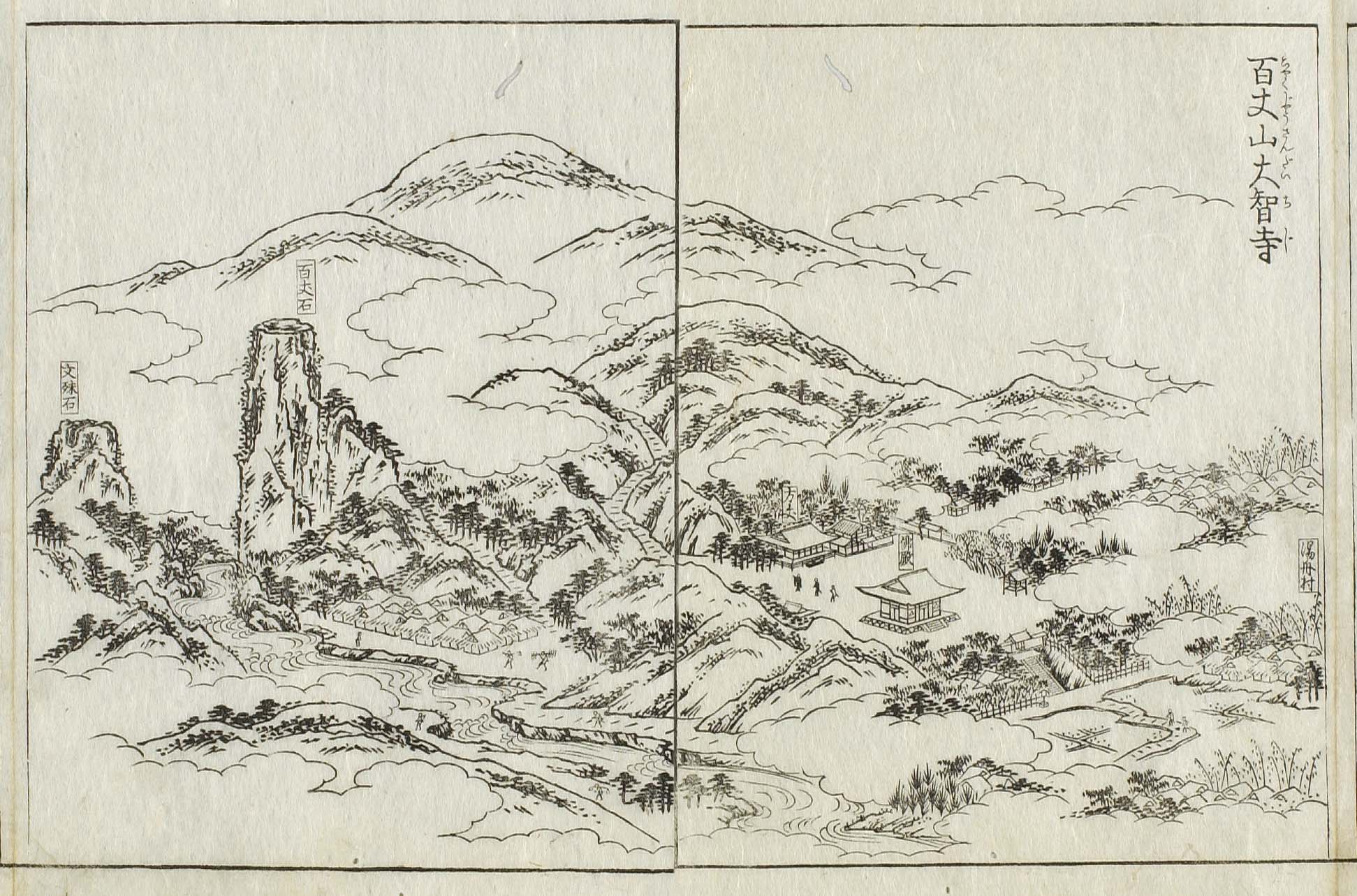 Great Prognosis Temple at Mt. Hyakujo

 Note and Sketch of Mt. Hyakujo by Shugenkai