Continued from Page 1
ner reservations.
The movie will begin at 7:00 p.m. This month's movie is Princess Mononoke (anime). Princess Mononoke is a fantasy adventure, directed by Hayao Miyazaki. Writers are Hayao Miyazaki (screenplay) and Neil Gaiman (English adaptation: US version). Runtime is 134 minutes.
Princess Mononoke is a story of an epic struggle between humanity and nature. Set in feudal Japan, a time of upheaval, of samurai warriors and isolated villages, this story concerns a gun-wielding, young brave princess raised by wolves named Princess Mononoke. She is sent to an ancient forested land to defend the forest from human encroachment, which threatens to unbalance the forces of nature.
Saturday, November 1: The Burmese Harp
Dinner will be served at 6:00 p.m. Please call 961-6138 by Thursday, Oct. 30 to make dinner reservations.
The movie will begin at 7:00 p.m.
This month's movie is The Burmese Harp, directed by Kon Ichikawa. Writers are Michio Takeyama (novel) and Natto Wada (screenwriter). The release date in the US was April 28, 1967. Genre is Drama/War. The movie was filmed in black and white. Runtime is 116 minutes.
In July 1943 Japan's army is on the run. A platoon in Burma sings to keep its spirit up. Inspiration comes from their self-taught lute player, Mizushima. At war's end, while they await repatriation at Mudon prison camp, Mizushima is sent to convince a Japanese company dug into a mountain that it must surrender. He fails, the British attack, many die, and his companions fear he's been killed. However, he has survived and disguised himself as a Buddhist priest. En route to Mudon to join his comrades, the frequent sight of dead Japanese soldiers overwhelms him. He vows to live a life of prayer, burying bones and bodies; his friends want him to return with them to Japan.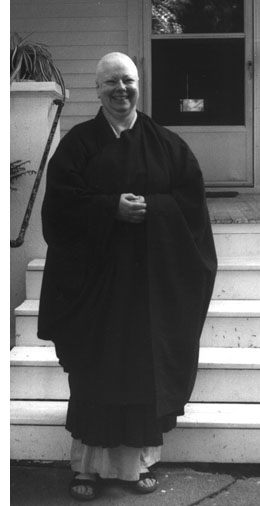 Mindfulness Day Oct. 24-26
On Saturday, October 25 the annual Mindfulness Day Colloquium will be co-sponsored by the Department of Religious Studies at Washington University in St. Louis and the Buddhist Council of Greater St. Louis, of which the Zen Center is a member organization. One of the two guest speakers will be Rev. Zuiko Redding, resident teacher at Cedar Rapids Zen Center and a Dharma sister of Rosan. Zuiko will also attend and offer talks at other area Buddhist centers before and after the Colloquium, including the Zen Center. The detailed schedule for Mindfulness Day and associated events is
below. All events are free and open to the public.
Mindfulness Day Colloquium: Saturday, October 25, 12:30 –3:30 p.m.
Location: Room 100, Brown Hall, Washington University in St. Louis
Schedule:
12:30 – 1:00 p.m.: Refreshments
1:00 – 2:30 p.m.: Dharma talk and meditation by guest speaker Rev. Zuiko Redding (resident teacher, Cedar Rapids Zen Center). She will speak on "Human Rights and Mindfulness."
2:30-3:30 p.m.: Second guest speaker, to be announced.
Zuiko Redding grew up in Texas where she encountered Zen as a university student. She studied in Milwaukee with Tozen Akiyama and in Minneapolis with Dainin Katagiri. In 1992 she was ordained in Japan by Tsugen Narasaki. She remained to practice under his direction at Zuioji Monastery and its mountain training center, Shogoji. She received certification as a teacher in the Soto tradition from Rev. Narasaki in 1996 and returned to the US in 1997. She has done monastic practice at Hokyoji in southern Minnesota. She is also a member of the American Zen Teachers Association and the Association of Soto Zen Buddhists.
Zuiko will also be speaking and practicing at the following Buddhist centers during her visit to St. Louis.
Friday, October 24
Missouri Zen Center, 7:00 – 9:00 p.m.
Zuiko will join us for evening zazen. Following zazen, she will offer a dharma talk, which will touch on the jhanas as well as the Dhammapada.
Saturday, October 25
Missouri Zen Center, morning
Zuiko will join us for zazen from 8:00–8:40 a.m. and family zazen from 10:00-11:00 a.m.
Thai Temple, 7:00 – 9:00 p.m.
Zuiko will participate in meditation and give a Dharma talk on "Shikan-taza."
Sunday, October 26
Mid-America Buddhist Association (MABA), 10 a.m. – 1:00 p.m.
Zuiko will participate in meditation and offer a Dharma talk on "Compassion and Practice of the Avalokitesvara Bodhisattva (Guanyin)." Lunch will follow the talk.
For more information call (314) 961-6138.