Fundraiser Volunteers Needed Sept. 2-4
The Zen Center operates a food booth as a fundraiser during the Japanese Festival. This event takes place every Labor Day weekend at the Missouri Botanical Garden, which includes a very large Japanese garden among its many wonderful garden areas. This year the event takes place on Saturday through Monday, September 2-4. This is both our largest fundraising event of the year and our best opportunity to offer our practice to the general public through information available from volunteers at the booth and from Rosan's public talks during the event.
Rosan tells us that volunteering for Zen Center activities is an important contribution to the Zen Center and to offering the Dharma to all beings. We need many volunteers to enable us to run a successful food booth, so please take the time to volunteer for this critical fundraiser! We need at least 8, and better yet 12, people during each of the four-hour shifts, and there are nine of these. Because of this we ask that as many of you as possible commit to working at least one, preferably two or even more, shifts. We welcome responsible family members and friends as volunteers also, including older children who can serve food to customers and make change.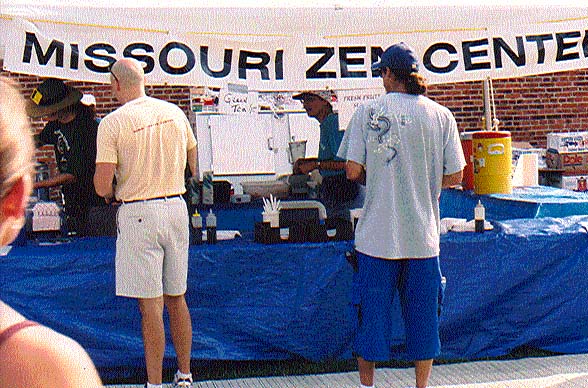 All volunteers receive a pass for free admission to the Festival all three days (admission is normally $10/day during the Festival). You'll be able to enjoy many different Japanese cultural activities, including taiko drumming, tea ceremony, and sumo wrestling exhibitions, when you are not volunteering at our booth. Also everyone who needs one will receive a parking pass to park in lots reserved for volunteers and served by a shuttle bus.
The shifts are the same each day: 8am-noon, 11:30am-3:30pm, and 3-7pm. The half hour overlap allows for smooth transitions from one set of volunteers to the next.
Sign-up sheets for each shift are posted on the closet door of the Zen Center. Please put your name and phone number down for the shift(s) of your choice. You may also call Kuryo at home, 314-355-3505, to sign up for a shift. Please do the same for any family members or friends who are volunteering.
Volunteer passes (yellow cards with the word Participant on them) and parking passes (large orange cards with the words Volunteer/Staff on them) are in Kuryo's box at the Zen Center. Please take one for each volunteer and one for each car that will be parked at the Festival.
Please take only as many of each as you need so that everyone who needs one will receive one. If you can't pick up your passes at the Zen Center, please contact Kuryo.
All volunteers must wear hats (city Health Department regulations). If you don't have one, the Zen Center has hats with Rosan's calligraphy available for purchase. We ask all volunteers to wear a Zen Center T-shirt, which offers a unified look to our booth. Again, these are available for purchase at the Zen Center in various colors and sizes.
Voluntary Simplicity Course
by Kuryo
Voluntary simplicity is one of the three pillars of practice at our Zen Center. Rosan tells us, in his article Actual Awakening from the October 2003 issue of Interreligious Insight:
Countless religious leaders devoted their lives to awakening (Insight) and action (Engagement), that is, to wisdom and compassion. They have lived the path of perspective, prognosis (prajna), peace, purity, poverty, embodying all of the principles enumerated above. Those who live these principles are benevolent, blissful, bountiful, beautiful and blessed by the whole holy life community. We follow their example ... (and) wakefully live our daily lives in a manner that is simple, safe, sustainable, systemic and that saves all life forms and life systems, including even time and space.
But it can be very difficult to practice simplicity. Our cultural karma keeps increasing our hours at paid employment, offering ever more enticing goodies for our consumption,and creating ever more beguiling ads to get us to purchase those goodies. This keeps us on the work-spend-work treadmill. How can we get off and begin to live in a simple, safe, sustainable way?
One way off the work-spend-work treadmill is through a program developed by the late Joe Dominguez called Your Money or Your Life. He and Vicki Robin traveled around the country in the 1980s, offering a day-long workshop to teach the program to others. It was so successful that they created first an audiotape version and then a book in order to spread the idea to others. Meiku and I found the book in 1994 and through it we were able to transform our relationship with money. We greatly decreased our spending, got out of debt, and began to enjoy life and engage with it meaningfully.
The Zen Center will sponsor a Your Money or Your Life group study course. We'll offer it as a one hour long discussion following sitting on Tuesday evenings, separate from the regular Tuesday evening tea and discussion (which will continue as usual). The course will begin at 8 p.m. on Tuesday evening, September 19 and continue each Tuesday evening through early January, with the possibility of skipping Tuesdays around the major holidays if needed. Each session will last from 8 to 9 p.m. Because the workbook is set up for two hour long sessions, we'll take two weeks for each workbook session.
Continued on Page 4