Zen Center Parking
So that the Zen Center may honor its agreement with both the city of Webster Groves and our neighbors, we ask that you please don't park on Spring, Oakwood, Dale, N. Old Orchard or any of the other nearby residential streets.
Please park on our side (right hand side) of the two lane driveway next to our house. (Please don't park on left side of driveway–it is used by our neighbor.)
Or please park in the public parking behind Stratton's Restaurant. Stratton's sits on the southwest corner of Big Bend Rd and N. Old Orchard Rd.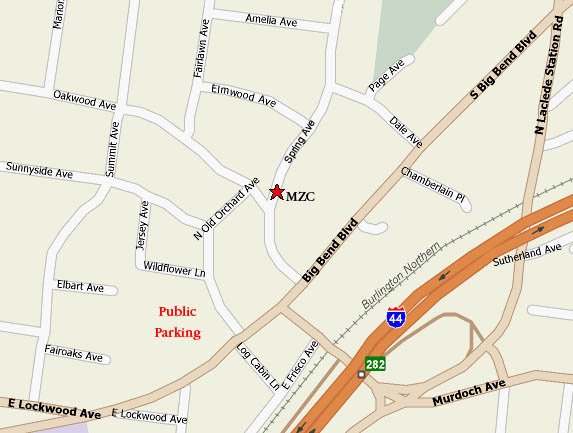 To find this public parking:
From Oakwood at Big Bend Go right onto Big Bend, then go 1 block south of Murdock Ave. (toward Commerce Bank) to N. Old Orchard, go right on N. Old Orchard and you'll see parking lots on the left.
From these lots you'll only have 2 blocks to walk.
Thank you for your cooperation.
---
Metro Bus Route to The Zen Center:
Metro Bus # 56 passes within 100 feet of the Zen Center on Big Bend Rd between Dale & Oakwood Ave. (This is the Dale street in Webster Groves, not the one in Richmond Heights.) The MO 56 has a connection with the Sunnen Metro link Station. Other bus routes may work better depending on where you're starting from. For more information call Metro Bus at (314) 231-2345 or see the web site: http://www.metrostlouis.org
---